For Immediate Release
Contact: Steve Taylor (314) 210 1322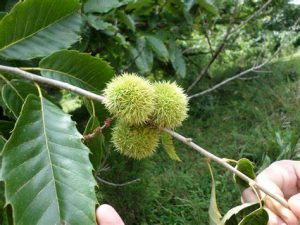 New York – December 5th, In advance of the public release of a petition requesting unprecedented USDA permission for the unregulated planting of the first genetically engineered plant into the wild, experts are calling attention to the risks and dangers of this plan.
Researchers developing a GE American chestnut tree have stated that they are working with the USDA on this petition and hope it will be finished and publicly released in the coming weeks.
In a series of short recorded presentations, five experts from the Campaign to STOP Genetically Engineered trees discuss risks of the proposed release of genetically engineered American chestnut trees into wild forests.
The Presenters include:
A White paper released this year by Global Justice Ecology Project and Biofuelwatch, extensively documents the concerns surrounding the GE American chestnut.  The impacts to forest ecosystems cannot be predicted, especially in the long-term. Testing young chestnut saplings for proof of safety and effectiveness, as researchers have done, is not sufficient for trees that can live hundreds of years. Also, indoor and extremely controlled outdoor testing does not replicate how a tree will interact and react in the wild. Pollen can travel for many miles, transported by wind, insects or animals. Remaining wild American chestnuts, and organic or non-GMO chestnut orchards are threatened (pg. 6) with contamination by GE AC pollen. Many experts representing rural, ag, activist, indigenous and scientific perspectives from various backgrounds are coming together demanding that the genetically engineered American chestnut be rejected.